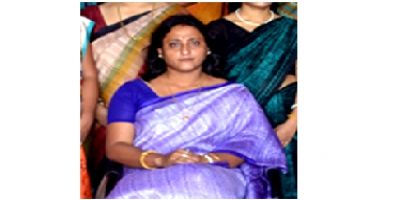 Nabamita Dey Acharya
Principal
Challenges of Private School Teachers in COVID -19 Situation
Introduction
The nation and the civil society always look at the teachers as implementers of social change. Teachers are expected to integrate all social messages in their teaching and model them too. Teacher's role extends much beyond teaching to nurture, prepare and guide the learners to usher in a better tomorrow. But as cases of COVID-19 continue to grow across the world, the concern for the safety of loved ones and anxiety about their future, teachers, especially in different private schools face unprecedented challenges. When schools switched to virtual learning mode, it fell upon most teachers, to pick up technical skills. Pitted against all the odds such as lack of – technical know how, digital skills, virtual learning resources and cyber safety protocols, the

teachers emerged victorious

when they managed to proudly sit before a smart phone or computer monitor to teach their remote learners in the online classes.
Economic Uncertainty among Schools & Teachers
Private schools teachers are in serious stress due to economic uncertainty. The disease has encroached not only on public health but on global economic well-being. In many cases the income of parents whose children study in these schools has gone down. As an expected consequence of this situation, parents are not able to pay the school fees of their wards. Moreover, to offer relief to parents, notifications regarding private school fee payments have been issued by some state Governments when the schools itself are under a lot of financial pressure since March this year. Most of the schools are finding it difficult to pay salaries as they were not getting tuition fees from parents. The school management is doing every bit. Almost all the private schools have cut their annual cost. There is a huge debt on many schools, many are on the verge of collapse. This creates a lot of pressure among the teachers as closing down of such schools will make a large section unemployed and create problems for students.

But despite all such diverse situation, I appreciate teachers for continuing with their teaching and adapting to new requirements.
Unwanted interference of parents
Teachers are in a completely unfamiliar zone with learners as remote spectators and parents as unwanted intruders. The stress of being under constant observation while teaching through an unfamiliar medium with totally new tools, is least to say challenging and stressful. Several cases have also been reported in media about unwarranted comments by parents on the teacher's appearance and pronunciation which are shocking and disgraceful to say the least and interference which is unacceptable as teachers are trained professionals.

Lack of technical knowledge
While transition to online classes has not been easy for teachers however, what has been more demanding for them is to address the issues of

"quality learning"

. Struggling to engage learners gainfully, getting them to respond and collaborate during lessons, assessing the learning outcomes and keeping them all safe in cyber space has been a huge challenge which teachers have been striving hard to manage by learning continually to improve their digital competencies and skills. The disease has required virtually every organization to reinvent its processes to cope with a situation in which not only the parents but also the teachers simply don't feel safe being in the same class-room together with their students. It is not easy for any organisation to supervise and monitor the whole on-line teaching –learning process. Class- room observation is also shifted to virtual observation with some new technical tools which were never used before in regular mode either by schools or by teachers. Old experiences are to be supported by digital technologies. Still it depends on 'try & error' methods in most cases.  Now, on-line mode is not only to support the teaching learning but also the process of evaluation. Teachers now are ready to accept innovativeness in their teaching & to develop their required technical skill. All of them are now framing questions in On-line Examination Portals.

Emotional Turmoil
Cyber attack which is usually in the form of sexually explicit language and images is a big challenge that a teacher may face during on-line classes. Various incidents are being reported by different Medias around the globe. I can clearly recall an incident of sharing an objectionable picture during my one of the teachers' class and how the teacher was left totally shaken up and shattered by the emotional violence and indignity of experiencing such attack. No one can really come to another's rescue in this situation and one needs a whole lot of courage and presence of mind to come out of a cyber-attack confidently with your learners watching and observing you keenly. Such incidents can be nerve-wrecking and take immense toll on one's mental health. On the other hand, schools are also responsible for taking care of their learner's mental well-being who is struggling under the impact of social distancing, lack of routine, absence of friends during the lockdown. It's not easy to teach a class full of dejected, distracted and disinterested children and adolescents through a computer/mobile screen, who would prefer to connect with you socially and emotionally and share their feelings rather than learn from textbooks. Counselling learners and their parents too is emotionally demanding on teachers who are themselves struggling with similar issues. But they have been doing so irrespective of their own stresses and anxieties.
 

Learning in Isolation
Learning from home can be lonely. Without the buzz of the classroom setting and the company of their peers, it's no surprise that some students can begin to feel a strong sense of isolation that slowly erodes their desire to learn. Despite what they say, many students will find that they miss school when the alternative is to be desk-bound at home. Isolation can also undermine many of the instructional strategies that we take for granted in our classrooms. Group work, class discussion and collaborative activity can disappear from the program entirely if we aren't careful, and with them go the associated levels of student engagement and rich learning that those experiences provide.

Lack of motivation in online learners
As hard as distance teaching might be for us, it's likely even harder for our students. They've gone from classrooms explicitly designed to support learning, to bedrooms and kitchen tables where distractions are plentiful and expert support isn't always on hand. It's no surprise that more than a few will be tempted to opt out. No doubt that

clear, measurable goal is the best source of motivation. But parents can be the biggest asset when it comes to maintaining student motivation at home.

It pays to get them onside!
Caring for the Teacher
Indeed Parents have the luxury of knowing their kids while their schools and teachers are working overtime so that the kids can learn. This pandemic has shown us how important teachers are ― and how they can succeed, even during a crisis, with the right technology and support system.

Now it is the time for us to know the teachers, their struggles & success along with the students.

It is the time for all stakeholders to stand by the teachers openly and publicly acknowledge their contribution and

take some tangible steps to ensure mental and physical wellbeing of teachers.



Schools must strive to pay teachers their full salary instead of deducting huge chunks to meet the deficit due to non-payment of fee by the parents during the Covid-19 pandemic.
Parents should thank teachers for keeping their children busy, focussed and creatively engaged during tough corona times and pay the school-fee of past few months with the understanding that it is going to be used to pay salaries to the teachers.
Government should come up with relief package or give direct benefit transfer to parents so that the schools continue functioning instead of mere notifications for reduction in school fees towards schools.
The screen time is a real concern for the health of learners as well as teachers in the online classes. There should be a limit of no more than three/four online classes to be taken daily by a teacher.
Schools must also proactively address the stress and anxieties of the teachers through panel discussions, counselling sessions and occasionally organise some recreational sessions too.
The multi-national companies manufacturing laptops should offer special

Teacher's discounts

to acknowledge the contribution of teachers in giving massive boost to the sale of computers due to on-line classes.
The government should instruct banks to offer interest-free loan to teachers to purchase personal laptops which is now an essential tool for the teacher.
Students should gift their sincerity, hard work and respectful behaviour to their teachers, which will mean much more to them than anything else.
In Conclusion
Teaching is the greatest act of optimism. When the world is faced with a dismal present and a bleak future, it is the teacher who simply through the act of doing his/her job shows us light at the end of the tunnel and leads the younger generations slowly but surely towards it.

Let's value our teachers and their teachings

which is truly an act of faith in humanity.
 


Mrs. Nabamita Dey Acharya,




Principal.




7th September 2020